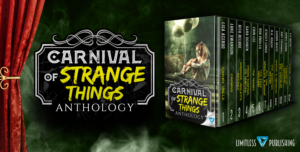 Step right up! A world of horror awaits you.
CARNIVAL OF STRANGE THINGS #ANTHOLOGY
? Releasing May 14th
? #99c #PREORDER http://mybook.to/CarnivalST
? #Bloggers & #Reviewers You can sign up to #review and/or promote this anthology! https://forms.gle/BWthAUTfTHCyRS868
?
 Featuring 
#
horror
stories by Lisa Acerbo, Luke Swanson, Rita Delude, Sara Schoen, Erin Lee Author, Rob Smales, Stacey Longo, D.A. Roach, Aaron White, Amy Crandall, Samie Sands Author, Liz Botts!
Ladies and gentlemen, step right up. The carnival is about to begin, and the show is to die for…
Grab your ticket and take a seat. The ringmaster's opening act? A creature showcasing its bloody feat.
There are haunting spirits with much to tell. Tales of torture and screams straight from the burning flames of hell.
Tick-tock goes the time, seconds passing by as you slowly lose your mind.
Watch.
Wait.
Listen.
Evil is coming, and it's striking from behind.
Horror and fear, like filth on your skin it clings,
Question is, are you brave enough to endure…
The Carnival of Strange Things?
#preorder #horror 
#
horroranthology
The 
Monster
Within
, by D.A. Roach
Annie, a woman who's battled with weight issues her entire life, lost her battle and her marriage because of it. As she contemplates ending her life, an opportunity presents itself. She's given a chance for a different future and it involves Henrik, the ringmaster of a carnival that's come to town. But Annie soon realizes there is something mysterious and sinister about Henrik.