Spooky Takeover Party!
https://www.facebook.com/events/1923311561304843/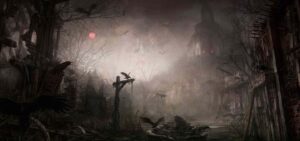 This Friday, spend the evening with some of your favorite horror/paranormal indie authors! The party begins at 5pm EST!


Demon Hunters Read-A-Long Marathon!
https://www.facebook.com/events/277452312881013/?active_tab=discussion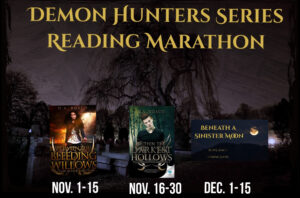 READING * GAMES * GIVEAWAYS * GUEST AUTHORS * FUN!!
Demon Hunters Series Reading Marathon Starts Nov. 1st!
What is a marathon, you ask? A marathon is a read-a-long of an entire series. For this marathon, my co-hosts and I have divided my YA Paranormal series into three 2-week legs. Readers will read the assigned chapters and then return to the event page to participate in games, contests, and other fun before continuing on.
Schedule:
The main purpose of the event is to read my books. We'll give you a time frame for reaching Mile Markers (check points) and at those mile markers, we will post a few discussion threads or games that reflect the action, plotline, and themes presented in the chapters read. You will also be able to ask me anything about the book and what my thought process was!



Finish line:
Readers who finish the entire series and post reviews for all three books reach
the finish line and are eligible for the GRAND PRIZE DEMON HUNTER BOX. This grand prize is packed with paranormal goodies! The finish line party will take place on Saturday, Dec.15th where we'll have some closing remarks, more fun and prizes!
Guest Authors:
A reading marathon would be nothing special if it didn't introduce you to other authors and their "trophies." So, I have invited a few authors to "showcase" their own books.
If you haven't yet downloaded Between the Bleeding Willows, Book 1 Demon Hunters, it will be free Oct. 31-Nov. 4th
buy link: http://amzn.com/B01C4VVPII
Within in the Darkest Hollows, Book 2 Demon Hunters
Buy link: http://a.co/2NaATFH
Beneath a Sinister Moon, Book 3 Demon Hunters
Coming Dec. 4th!
Author Takeovers:

11/2 – Brandy Nacole
11/6 – Tricia Copeland
11/13 – AJ Norris
11/18 – Nikki Jefford
12/2 – JL Clayton
(and more authors to come!)
**Thank you to Casey Hays for coming up with this fun idea and helping me**