The Darkness within threatens to destroy one and free another…
WITHIN THE DARKEST HOLLOWS
by D.A. Roach
The Demon Hunters Series Book 2
YA Paranormal
Cover Designer: REDBIRD DESIGNS
Cassidy and her mystical ring are stuck in the middle of a battle between the Demon World and the Mortal Realm…
A conflict with the demons has left Killian, head of the Demon Hunters, injured and stripped of his powerful Demon Hunter tattoo. Cassidy is tasked with caring for him in the Human Realm until he is well enough to cross back into the Demon Realm. But soon she notices he is acting strangely and begins to suspect something is wrong.
She seeks help from Serena, a retired Demon Hunter, but it's too late…
Cassidy returns home to find Killian has gone missing. Tyler, a friend with his own set of mystical powers, shows up to tell her that Killian is at his house demanding a meeting with the Demon Queen Rya. She and Serena have to work fast to find a way to heal Killian and get Cassidy's ring away from him before Rya is involved. Meanwhile, Tyler and his dad have their own plan to make a deal with the Queen.
The Queen has a decision to make, but not before securing her leverage…
Rya wants time to consider the offer presented by Tyler's dad, and takes Cassidy to the Demon Realm as collateral. The Demon Queen must choose between Tyler, the mate she was promised, and the mystical ring that was forged for her years ago.
Tyler is forced to face the inner demon he has worked so hard to restrain. Will he succeed, or will he be lost to the darkness, leaving Cassidy to be sacrificed by the demons?
As both sides gain alliances, the tension between the realms grows and the time for action draws near…
Meet the author: D.A. Roach has been telling stories since she was a young girl in the suburbs of Chicago. In college she met the man of her dreams, her happily ever after, and married him 2 weeks after graduating. They have 3 kids together and a pet cockatiel named Gimli. D.A. did not find a love for books until after college. Her parents were immigrants from Lithuania and found tv and radio easier ways to hear stories so they did not do much reading or encourage it. But once she finished college and D.A. had free time, she discovered how amazing it was to get lost in a story.
D.A. is a full time mom and wife. When she is not doing domestic things (laundry, bills, etc) she is writing, reading, creating mixed media art, and helping beautify her kids' school landscape. Oh, and she is ALWAYS listening to music. Her favorite authors include Rebecca Donovan, Richelle Mead, Larissa Ione, Stephanie Meyer, E.L. James, and Sylvia Day. Reading great works from authors like these has motivated D.A. to write her own stories. She hopes to make positive changes in the world with her art and writing.
"Life isn't about finding yourself. Life is about creating yourself."
― George Bernard Shaw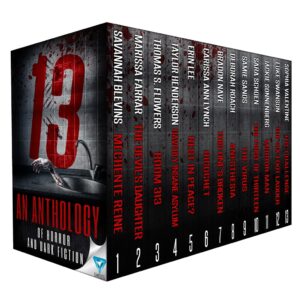 13: An Anthology of Horror and Dark Fiction
Coming October 4th from Limitless Publishing!
— AUTHORS —
Bradon Nave
Carissa Ann Lynch
D.A. Roach
Erin Lee
Jackie Sonnenberg
Luke Swanson
Marissa Farrar
Samie Sands
Sara Schoen
Savannah Blevins
Sophia Valentine
Taylor Henderson
Thomas S. Flowers
— BLURB —
13 has always been unlucky. But now it's turned deadly…
Darkness has fallen. Real and unseen, evil is out there. Waiting. Watching. Biding its time. It might be your neighbor, your best friend—or something much, much worse. It might be the shadow itself. It will hunt you down when you least expect it. It will talk to you in the quiet hours of the morning and follow your footsteps when you're alone. It's chosen you…and it always gets what it wants.
13 dark tales await you. Ready to bring your worst childhood nightmares to life, to push you to the brink, and make you question your every decision…
The circus. Your beloved carnival rides. That mom and pop motel you pass every day on your way to work. They'll never look innocent again. Because they're not. No one and nothing can be trusted. Not even yourself.
Are you ready to take the ultimate dare? To spin the devil's wheel?
Be careful…
13 will get you every time.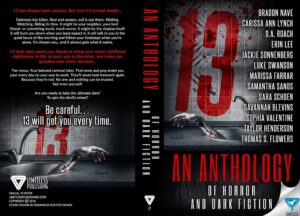 — CONNECT WITH THE AUTHORS! —
LIKE their pages on Facebook!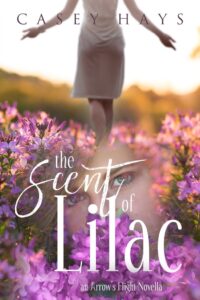 BOOK COVER REVEAL: The Scent of Lilac by Casey Hays!
If you've loved the Arrow's Flight Series so far, you don't want to miss out on this endearing companion tale.
Preorder today: https://www.amazon.com/Scent-Lilac-Arrows-Flight-Novella-ebook/dp/B01L28CE2K/