Q&A with Joe King, an author of the Midnight Oil Anthology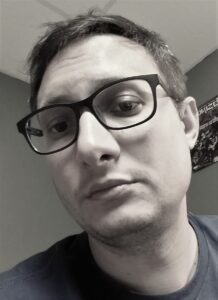 Inquiring minds want to know what makes you tick. Tell us about your life.
I am a former journalist turned high school English teacher. My published works include Raw Egg and Human Ants.  I recently had the pleasure of marrying the love of my life at the Hemingway Home in Key West.
What was your life like before you became a writer, and how did you get your start as an author?
I was inspired to write after reading Fyodor Dostoevsky's The Brothers Karamazov. I had read a fair amount of classic literature before, but that book really spoke to me. I though if I could write something that meant that much to somebody else as that book meant to me then I could feel like I positively contributed to humanity.
Tell us about your writing process. Are you a pantser, a plotter, or something else?
I'm not really into labels like this. I write as often as possible and aim for quality and passion.
Do you have a favorite writing project or a book that still haunts your dreams that you would like to share?
I have a grand idea for a mega novel that is a still a few projects away. I really can't say much about it because all the other projects before it will be part of its development.
Tell us a little about your story in the Midnight Oil Anthology.
My story in the collection is called a "A Common Place," which is an ironic title since nothing that happens in the story is remotely common. The story involves a clash of wrongly interrupted perspectives that drive the action. I can't give away too much without ruining all the surprises in it, but I will say it is a strange story.
Do you have works in progress?
Yes, I am currently near the end of the first draft of my second novel. I went bold with this one. It's a multi-genre blend that is pushing more that 100,000 words so far. I hope to release this work within a year. I am also about to re-release my poetry collection Human Ants with tons of new poems and art work. That should be out in a month or so.
What are your plans for your next book?
This goes back to Human Ants. I've never self-published a work, but I am going to give it a try with this one. My main motivation in this is to cheap the price as low as possible. Poetry readers are so rare, I thought the low price could by my small way of celebrating them.
Do you have an especially interesting research experience to share?
I don't really do too much research in the type of writing I do.
How to you stay in touch with your muse?
Words, words, words.
What do you think has contributed the most to your writing style?
Reading a variety of classic literature. I believe the quality and quantity of what  a writer reads has a profound effect on the writing they produce.

How can readers follow you online?
https://booksbyjoeking.wixsite.com/joeking
https://www.facebook.com/WriterJoeKing/
https://www.goodreads.com/author/show/15112518.Joe_King
https://twitter.com/joe_author